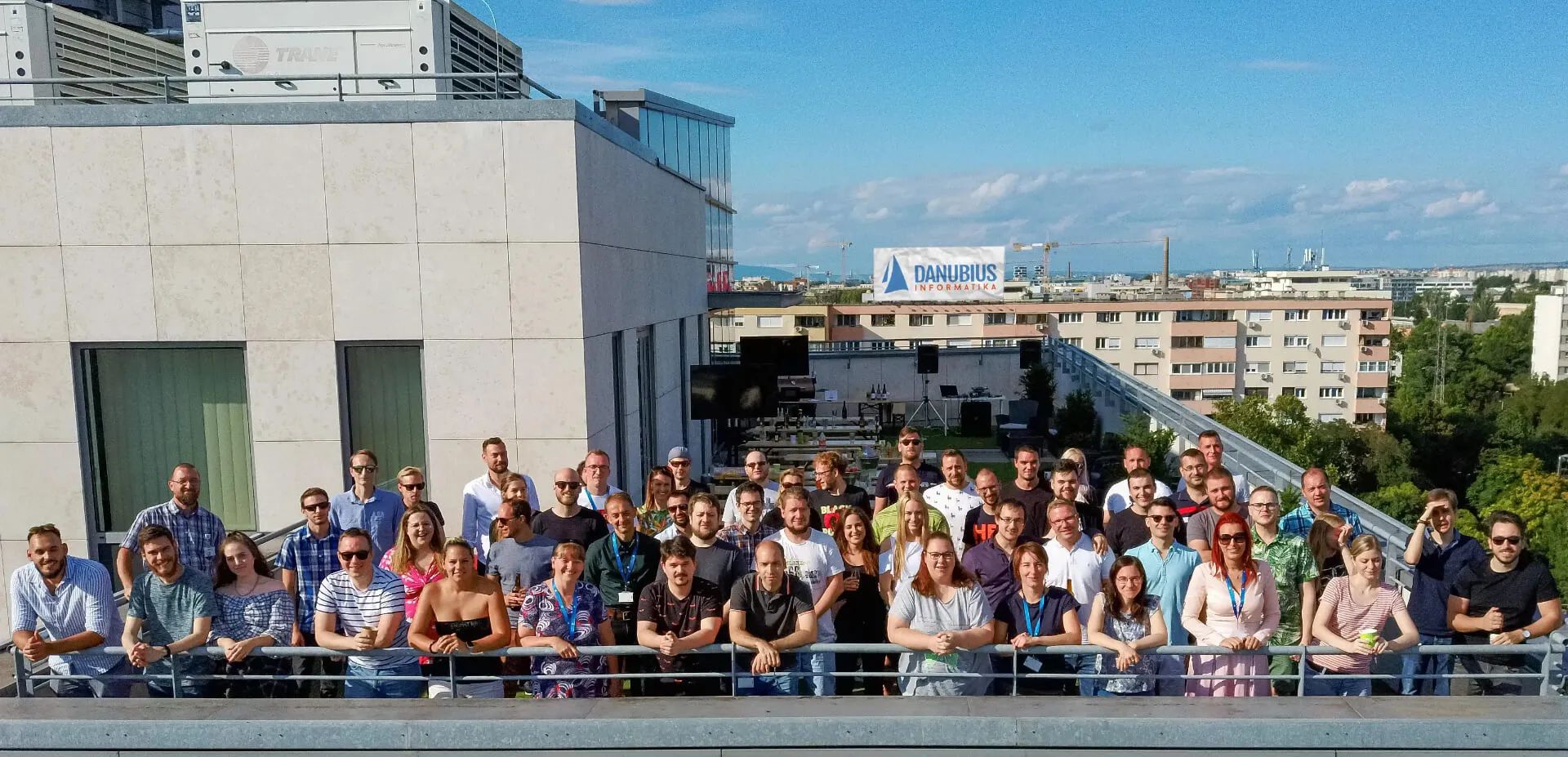 Peter Balogh
founder & CEO
He graduated from Budapest University of Technology as an IT engineer, but later extended his studies with an MBA at Warwick Business School, UK. Peter started his career at a software house as developer, and stepped up to a team lead. After working for IBM Software Group as presales and software architect with a focus on the financial sector, he founded Danubius in 2010.An enthusiast of combining business mindset with tech skills, user experience and online marketing. Beyond overseeing projects at the strategic level, he loves to get involved in conceptualizing and sharing our best practices via training and workshops.
Peter Halász
founder & COO
Peter also graduated as IT Engineer from Budapest University of Technology. Starting as a developer, he quickly proved to have a broad view and ability to think beyond the implementation itself: in terms of the business, the users and the operation. These skills quickly made him an excellent solution and integration architect.Peter has also completed an MIT Fintech Course: Future Commerce. With over 10 years of experience on numerous financial projects, he is the one who ensures that our teams are delivering the expected results in terms of business results, architectural fit, operational characteristics and quality in general.
Zsuzsanna Antal
deputy CEO
After achieving an MSc in Computer Science from Debrecen University, Zsuzsanna worked as a system analyst. Her strengths in systematic thinking made her a methodology expert, supporting several enterprises to define and optimize their development processes and software lifecycles.Over 13 years at Raiffeisen Bank Hungary, she gained valuable experience as Head of Quality Assurance and Head of Development. Zsuzsa is extraordinary in people management, soft skills development and maintaining our ever-evolving methodologies and best practices.
We are your partner for solution development
Value creation
We love to create software that is loved. Therefore we focus on achieving your business goals, and serving your users with a memorable experience (UX/CX). Make your competitors sit up and take note!
Professionalism & Humanity
Continuously learning and improving ourselves to bring the latest & greatest technologies to our customers is a priority. But the human side is even more important. Hence we focus on clear communication, agile methodologies and collaboration as true partners.
Honesty & Esteem
We promise only what we can deliver. And we deliver what we promise. You can always count on us to communicate honestly & transparently on all matters. Even if we make mistakes (which we really rarely do), you will know about it ;-))
Proactivity
Creating a software is a real (ad)venture! Once we join your project, we are in the same boat. We grab the paddles, but will also watch ahead to warn you about potential risks and help to mitigate them.
What Our Clients Tell You?
For me and the whole Groupama teams, cooperating with Danubius is always interesting, efficient, clever and fun. After every project, everyone is very happy and proud of the outcome. But actually I think there is something else to it. Maybe some kind of a collective surprise/marvel having taken part on a weird journey where we could think together without limits, invent freely the best next steps, elaborate continuously a better understanding of what we are up to, and simply enjoy the whole of it each and every day. A lovely feature of our cooperation is that closing a project comes always with hundreds of new opened possibilities to explore and a big impatience for all of us, despite we are exhausted sometimes, to dive back into it, delightfully…
Alexandre Jeanjean, CEO
Groupama Insurance Company (HU)
Danubius is one of our trusted nearshore partners. Danubius consistently proves to be a reliable and professional partner: they truly take responsibility and ownership for delivery! We are pleased with the open communication on all levels! With Danubius we surely move forward.
Clifton Cunningham, CTO
Infinitas Learning (NL)
Working with Danubius was a very pleasant experience. The onboarding on the MediaSpecs project was frictionless and fast. Their engineers showed great skill and dedication. We had a very tight deadline and it was thanks to Danubius that we were able to deliver on time. I would be happy to work with them again anytime.
Edwin Mol, Tech Lead
MediaSpecs (BE)
As a product owner, it's a real pleasure to collaborate with the Danubius team every day. All team members actively participate in the meetings and are skilled experts who are 100% committed to deliver work of the highest quality. They don't just execute, but truly contribute to the project with solutions, rather than reporting problems & issues. And when things don't go as expected, I can trust on a flexible and pro-active attitude to keep moving forward.
Dries Ballyn, Product Owner
Plantyn (BE)
They develop efficiently and precisely with very high craftsmanship. In addition, we can also count on their professional support and ideas, their proactivity significantly accelerated our developments.
Gabor Olah, Digital Development Head
Raiffeisen Bank (HU)